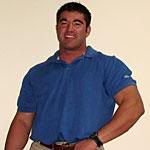 Romen McDonald is a Fitness Professional in the Birmingham area. He has high level of education and experience that includes: BS n Nutrition University of Alabama, 8 years of clinical research on exercise, and the Certifications with ISSA
Romen developed the Firm Body Bootcamp program to create a cost effective method for professional instruction and a fun environment. Romen has appeared on ABC 33/40, Fox 6, and has been published in the Birmingham News on several occasions regard his fitness programs.
Romen believes in helping each client get optimal results. He feels that if someone is paying for that extra push, they should also receive results in the fastest safest method possible. Romen is not your typical trainer that uses bodybuilding routines (3 sets of 10 on specific muscle groups). He believes in metabolic strength training which is non stop compound movements for the highest percentage of fat oxidation.